The Children Are the Future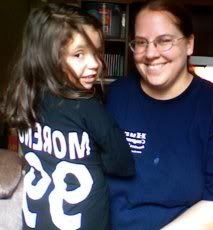 Just don't feed them beer at the game. Joanna came up with the perfect solution, a Moreno shirt. Considering I would rather have a Moreno shirt than a beer, I can't really fault this approach.
Here is Joanna's full
write-up
of her time at the Colorado game with a little one (her neighbor's daughter) in tow. It is a great story that hopefully is a good sign for the future of soccer. I love it when little kids learn the DC United cheer. It is that simple, and hopefully kids take away from the game that its okay to be loud at soccer games, especially when you are rooting for DC United.